This article is a guest post by Madhur Dharmadhikari.
They say the true success for a product is when an employee of the same company buys it. But do the employees know how well the organization is actually doing? That's when Internal Communication (IC) comes into picture.
Lets have a look at the big-picture view of Internal Communication within any organization.
Role
Internal Communication in the simplest terms is effective communication among the participants within an organization. Effective internal communications is crucial for employee engagement, motivation and retention. Organizational success stories, product launches, performance reports, gatherings, etc are just few things that are a part of internal communication. The employees are like brand ambassadors and hence need to be up-to-date about the happenings of the brand.
Internal Communication Vehicles
We can broadly classify the communication vehicles as below-
Electronic communication
Email, intranet, video and webcasts, DVD, electronic newsletters, blogs, screensaver messaging, news feeds and internal social media tools. Emailers and newsletters could be quarterly or monthly too. They can comprise of main events, top stories, market data, employee stories, etc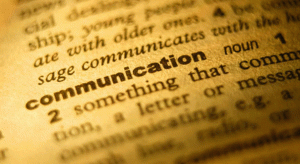 Paper-based communications
Magazines, newsletters, brochures, etc. Magazines are something that needs a lot of effort from the communications team, since there is a lot of data involved. If a company can really manage to have a monthly magazine, it proves to be a very useful document.
One-to-one or one-to-many
Team meetings or briefings, conferences, site visits, consultation forums, get-togethers, etc. Such ways of communication increase the transparency with the organization, encourage people to speak up and share their ideas.
The

working environment
Notice boards, plasma and LCD screens, accessories, bags, clothes, etc. Though this is more than just internal communication, its more non-verbal and felt by everyone in the organization. Google, for example, is very big on accessorizing, core philosophy etc. They follow a no-paper system where in matter discussed in meetings / notice board explanations are purely e-documented and circulated via email.
Internal Communication is not just about passing information to the employees / partners. It also includes the process of getting information from them. Feedback from employees is extremely valuable. Anybody in the hierarchy could come up with an idea or a concept that no one has thought of before. Discussions boards, polls, employee write-ups are therefore very crucial.
Challenges
One important concern for an internal communications manager is selecting the right channels for both – the audience and the message. For example, when a manager wants to motivate the sales team, should he put up simple motivating posters or do a motivational event?
Of course, with so many new IT systems in place today, Internal Communication operates on a really diff level. An example is a company's internal blogs, where everyone in the organization can write blogs, post articles, etc. The company can archive the newsletters, photos and e-documents. Intranet has changed the scene for Internal Communication to a large extent.
Conclusion
Unfortunately with the over burden of work in this age, people are moving away from reading habits. And  especially when this reading is related to work, even more so. Hence, it is essential that the material that is presented be crisp, precise and interesting to read. Internal communication deserves equal importance as external communication does.
–
Madhur Dharmadhikari has over 4 years of experience in the advertising industry. She has been involved in servicing brands from various industrial sectors like retail, industrial, real estate and hospitality. Apart from her work, she is very interested in photography, creative writing, reading and art.
Who says ideas don't travel across mediums? With her unique understanding of how the industry works, Madhur brings in a lot of insights into the concept of Branding and how it can be used in an Internet setting. Watch out for more insights from Madhur on this blog! Meanwhile, you can follow Madhur on Twitter or add her on FaceBook.